ABB explores how Chinese companies can use digitalization to significantly improve chemical plant operations and outputs against a backdrop of slower demand growth, excess capacity and greater environmental regulation.
Conditions in the Chinese chemical industry are at an important stage of transition says ABB, in a white paper launched today on 'Transforming chemical operations through technology in China'.
This paper considers the internal and external challenges facing the country's chemical industry and provides an overview of how companies can use digitalization to transform their operations in ways which reduce costs, minimize risks and drive sustained profitability.
"While the last decade saw strong GDP growth which, in turn, drove China's chemical industry to significantly increase production capacity, there has been a marked slowdown more recently," observes Cruise-Feng Li, Senior Vice President, Oil, Gas and Chemicals, ABB China.
"In parallel, the sector has had to cope with environmental regulations becoming more stringent. Digital technologies can help operators respond effectively to these evolving conditions by driving efficiency of plants."
The white paper draws from independent sources, along with ABB's experience in China and other emerging countries, to illustrate how digital can maximize performance in this new market reality while simultaneously improving safety and production, despite wide disparities in workforce experience.
Additionally, ABB identifies the imperatives critical to optimizing results through digitalization. These include pursuing simplification and standardization wherever possible. Simple solutions are easier to replicate and integrate while standard approaches and equipment are considerably cheaper to monitor, manage, maintain and upgrade.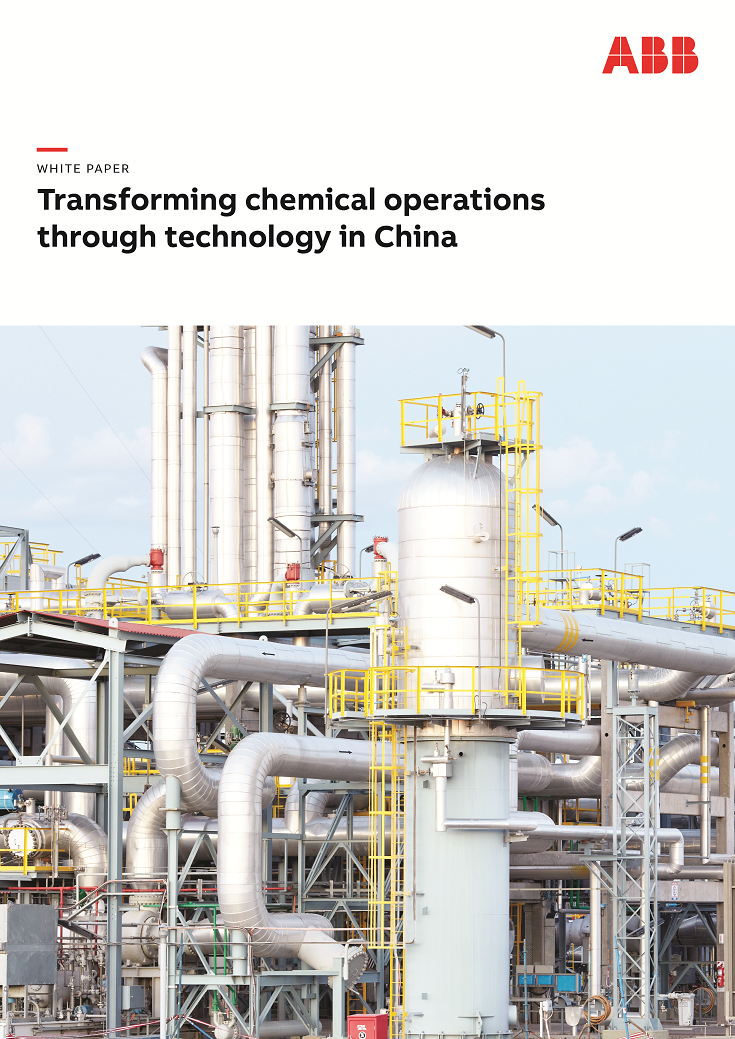 ABB also discusses the need for deeper supplier partnerships such as the strategic alliance it formed earlier in the year with Yitai Group, one of China's leading coal chemical enterprises. Cruise-Feng Li explains: "
The scale of digitalization-driven changes over the next 20 years will be so large and disruptive, in China and the rest of the world, that it will be extremely difficult, and possibly counter-productive, to go it alone. Strategic alliances, like the one we have with Yitai Group, are critical to accelerating digital transformation. By jointly developing intelligent, digitally-empowered plants in China and elsewhere we can help them to enhance global competitiveness."
The white paper can be accessed here: http://improve-operations.com/100
ABB (ABBN: SIX Swiss Ex) is a pioneering technology leader in power grids, electrification products, industrial automation and robotics and motion, serving customers in utilities, industry and transport & infrastructure globally. Continuing a history of innovation spanning more than 130 years, ABB today is writing the future of industrial digitalization with two clear value propositions: bringing electricity from any power plant to any plug and automating industries from natural resources to finished products. As title partner in ABB Formula E, the fully electric international FIA motorsport class, ABB is pushing the boundaries of e-mobility to contribute to a sustainable future. ABB operates in more than 100 countries with about 147,000 employees. www.abb.com