La compañía promueve la electromovilidad con la mayor base instalada de estaciones de carga rápida para vehículos eléctricos en todo el mundo y es patrocinador oficial de la competencia a nivel internacional
Por primera vez en Chile, se vivió en las calles de Santiago la carrera "ABB FIA Formula E", correspondiente a la cuarta fecha de la temporada 2018 de esta competencia internacional que tiene por objetivo promover la electromovilidad y la investigación en este ámbito, y que fue evaluada positivamente por los altos directivos de ABB Global que visitaron el país para participar en el evento.
"Esta asociación ciertamente muestra que el futuro es electromovilidad, automóviles y buses eléctricos. Nosotros tenemos un desarrollo anterior en trenes eléctricos y como grandes proveedores de motores industriales, ahora el paso siguiente como pioneros es traer la electromovilidad a todo el mundo. Ese es el gran mérito que tiene para nosotros el asociarnos con Formula E", dijo Greg Scheu, President Americas de ABB.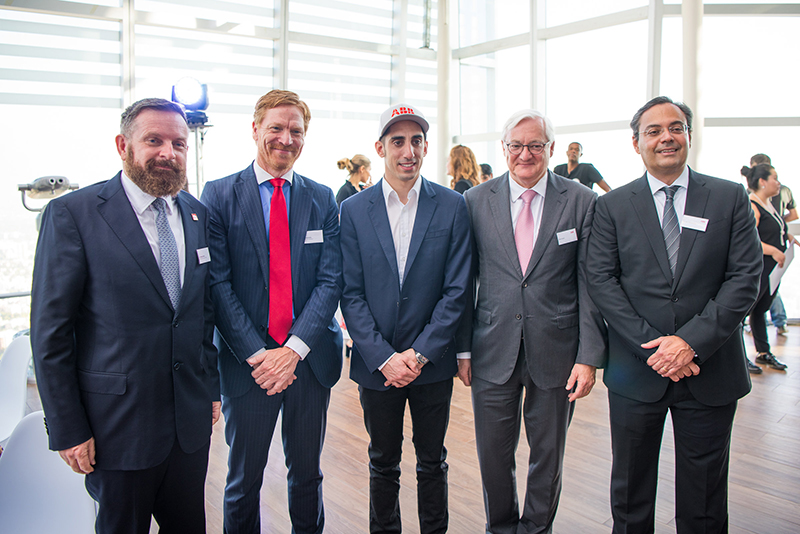 La compañía sueco-suiza anunció a comienzos de año el importante acuerdo que lo convirtió en el principal patrocinador internacional de la Formula E, pasando a denominar a la competición como "ABB FIA Formula E". La empresa está en línea con la experiencia en electrificación, con el liderazgo en soluciones de carga de vehículos eléctricos y con el hecho de que la compañía cuenta con la mayor base instalada de estaciones de carga rápida para vehículos eléctricos en todo el mundo.
"Hoy estamos viviendo una revolución de la cual nosotros somos parte y en la que hemos participado desde hace un tiempo ya cuando nos adscribimos a la Estrategia Nacional de la Electromovilidad del Ministerio de Energía. En ABB estamos trabajando para extender la red de cargadores eléctricos que tenemos en Chile para que la gente que tenga un auto eléctrico pueda ir a cualquier destino del país sabiendo que se encontrará con cargadores en la ruta", declaró Marcelo Schumacker, Country Manager Director de ABB en Chile. Además agregó el beneficio que trae la electromovilidad para el país al señalar que los autos eléctricos consumen alrededor de cuatro o cinco veces más cobre del que puede utilizar un auto convencional. "Esto es un negocio espectacular para nuestros clientes mineros pues se estima que en unos años la demanda de cobre aumentará en dos millones de toneladas. Y eso claramente es una buena noticia ya que Chile es un líder mundial en la producción de este mineral", especificó.
El día anterior a la carrera, ABB organizó un Panel de Discusión denominado "El Futuro de la electromovilidad y sus implicancias para Chile" y que contó con la participación de Greg Scheu, President Americas de ABB; Peter Voser, Chairman of the Board of Directors de ABB; Alejandro Agag, fundador y CEO de Formula E; Iván Arriagada, Presidente Ejecutivo Antofagasta Minerals; y Andrés Rebolledo, Ministro de Energía.
"Nuestro interés fundamental es que esta actividad deportiva se convierta en un hito en la historia de la electromovilidad. Y sirve para que la gente conozca esta tecnología, sepa cuáles son los beneficios, que somos productores de cobre y de litio y contamos con las energías renovables. Por lo tanto estamos muy bien situados para poder mostrar esta nueva revolución tecnológica que es la electromovilidad", expresó el ministro.
Es así como los ejecutivos de ABB valoran positivamente la competencia. El corredor Sébastien Buemi, embajador de la compañía, obtuvo el tercer lugar en la carrera.