The ABB FIA Formula E Championship racing series rolls into Paris this weekend, the circuit's annual stop in a country as committed as any in Europe to the adoption of sustainable electric transportation. And as France makes its e-mobility push, ABB is an active partner in all the main elements of that effort.
Whether it is France's development of renewable energy, the electrification of mass transportation, the creation of an electric car infrastructure or the use of digital technology to efficiently manage the power network -- ABB is integrally involved at each step of the process.
France, home of the 2015 international Paris accords on combatting climate change, is committed to meeting a national goal: reducing carbon dioxide emissions by 40 percent by 2030. To do so means significantly curtailing emissions from transportation. Fossil-fueled vehicles currently account for 28 percent of CO₂ emissions in France – and are a major contributor of other health-threatening gases and particulates.
''The fact that they were signed in Paris means that we, even more than other cities, need to respect them and set an example," said Jean-Louis Missika, Deputy Mayor of Paris. ''So for us electric mobility is a medium-term objective, not a long-term one, and we are pouring all our resources into meeting this objective."
The administration of the French President, Emmanuel Macron, has budgeted €15 billion (about $18.55 billion) for the nation's energy transition. The plan calls for doubling France's generating capacity of solar and wind power by 2023. ABB is a key enabler of this energy revolution.
"ABB has been a partner in France's energy and transportation industries for more than 130 years," said Frank Duggan, ABB's Europe Region President. "We're proud to play a big role in the country's 21st-century clean-energy and e-mobility initiatives."
Extending the grid
In a project now underway by the French electrical transmission company RTE, for example, ABB is supplying nine 400-megavolt-ampere booster transformers to help regulate the voltage from four giant wind farms being constructed off the Atlantic coast.
ABB is also working with RTE and the British utility National Grid to connect the two countries' electricity markets via a high-voltage direct current (HVDC) link. When commissioned in 2020, the 1000-megawatt system will link Chilling, Hampshire, on the southern coast of England, to Tourbe in northern France, covering a distance of 240 kilometers across the English Channel – or La Manche, as the French prefer to call that body of water.
ABB converter stations on either end of the undersea cable will transform alternating current (AC) to direct current (DC), which is the preferred format for transmitting electricity over long distances with minimal losses. The stations will also convert the electricity back to AC for use on the power grids. ABB's HVDC Light® technology will regulate grid fluctuations and support power restoration in the event of an outage.
The HVDC system is designed to enhance the security, affordability and sustainability of energy supplies in both countries – and make it easier to smoothly incorporate renewable energy into the power grids of France and Britain.
Cleaner mass transit
Renewable energy will be crucial to the French effort to cleanly and efficiently electrify the nation's transportation systems. Not that electric transport is a novelty in France. This is the country, after all, known for its high-speed electric trains – the TGV – which an innovative light-weight ABB traction transformer enabled to set a speed record of 525 kilometers an hour (more than 325 m.p.h.) in 2007.
ABB continues to be a major supplier of electric-train power systems in France. That includes supplying traction transformers and motors to Bombardier Transport's factory in the northern France town of Crespin, near the Belgian border. The trains will be used on the RER system in Ile de France, the region encompassing Paris. ABB also supplies the traction transformers for the national rail company SNCF's regional TER trains outside Paris.
ABB e-mobility innovation is also evident in the new electric-bus network now being implemented in the French city of Nantes, in Upper Brittany. The buses will be powered by ABB's innovative flash-charging technology.

With the flash-charging technology, a charging station at the bus stop enables the vehicle's batteries to be refreshed in 20 seconds – less time than it takes for passengers to disembark and others to board. A robotic arm automatically connects to the overhead charging terminal to provide a 600-kilowatt burst of electricity. ABB's curbside batteries and transformers enable the system to prepare for each flash charge without causing a disruptive surge on the local energy grid.
These battery-powered electric buses have no need for overhead wires or trolley tracks, making their routes much more flexible than older forms of electric transportation. And the flash-charging technique enables the e-buses to continually ply their routes without interruption or the need for lengthy overnight recharging sessions. When the vehicles reach the bus terminal at the end of the day, ABB chargers can completely replenish the batteries.
But flash-charging isn't the only type of electric-bus technology offered by ABB, a global leader in electric mass transportation. The company provides a broad range of recharging options for buses, depending on the needs and constraints of the fleet operators. That includes OppCharging – similar in concept the flash- charging technique, but occurring only at the bus terminal in sessions lasting three to six minutes via an overhead pantograph.
Other proven solutions include an ABB smart-charging station that, with minimal impact on the energy grid, can automatically and sequentially recharge the batteries on three buses overnight. An ABB 150-kilowatt sequential charger of this type has been adopted for the electric buses in La Rochelle, a coastal city in southwestern France.
For consumers, the proof is in the e-car
The return of Formula E racing to Paris this weekend will serve as a crucial reminder: For the public to truly embrace e-mobility, electric cars are key. And these EVs must be as appealing, and viable, as the internal-combustion cars they are meant to replace.
The French government is helping spur the adoption of electric cars by banishing the most polluting ones – fossil-fuel cars produced before 2001 –by 2020. And by the year 2040, France aims to end the sale of gasoline and diesel cars.
''We believe that we must convince those in Paris and the surrounding region to increasingly give up the more polluting vehicles in favor of clean, or less polluting, alternatives," said Missika. ''And there is a real coherence in the entirety of our policies on the subject."
What's more, as Formula E racing demonstrates so vividly, electric cars can be exciting high-performance machines. And yet, mass adoption of electric cars will require a public infrastructure that is as convenient and ubiquitous as the petrol filling stations that serve fossil-fuel cars. Otherwise "range anxiety'' – a drivers' fear that they won't be able to charge their batteries during a road trip – will be a deterrent to choosing electric vehicles.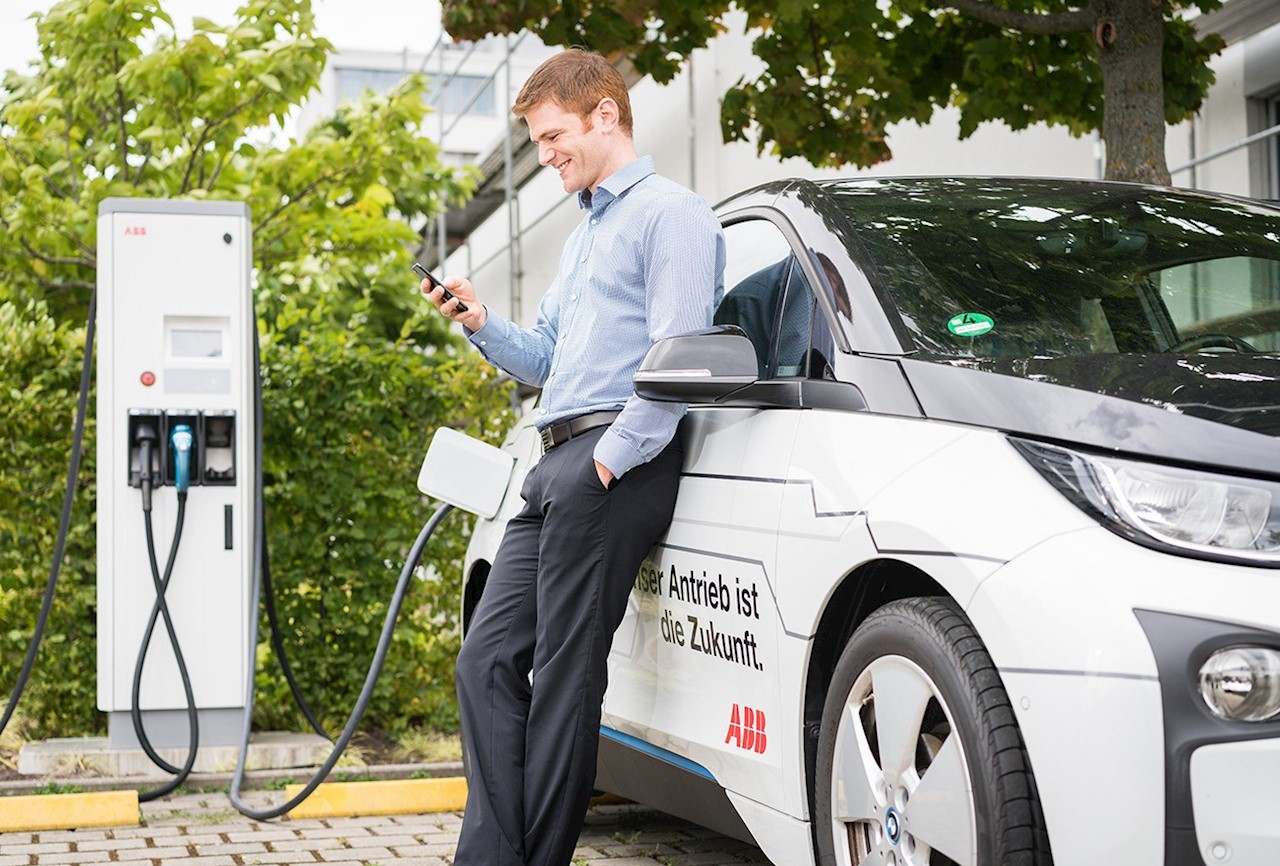 But convenience and ubiquity are fast becoming a reality – particularly in France – thanks in large part to charging stations supplied by ABB. The company's top-of-the-line charger, the DC-format Terra HP, can operate at levels of up to 350 kilowatts and is able to add almost 300 kilometers (more than 185 miles) of range to an EV in not much longer than the time needed to refuel a gasoline engine vehicle.
With more than 6,500 DC fast charging stations installed in 60 countries, ABB is a global leader in fast charging technology.
Networks of ABB fast-charging stations are being set up around France. Audi and Volkswagen dealers, for instance, have installed more than five dozen around the country as a convenience to buyers of those carmakers' electric vehicles. And a group led by Volkswagen, Audi, BMW and the retailer Lidl is creating a national network of charging stations that include ABB's Terra HP chargers.
On the French Mediterranean island of Corsica, meanwhile, solar-powered ABB Terra charging stations have been deployed by Driveco, a subsidiary of Corsica Sole, a provider of solar-generated electricity on the island.
Wherever they're employed, ABB's EV charging stations can be fully networked through the ABB Ability™ digital platform. Network operators, from a central location, can remotely monitor, administer and update the chargers; provide customer payment systems; and continuously calibrate the stations to work most efficiently with the local grid or a renewable energy power supply.
In fact, ensuring that e-mobility evolves in coordination with grid operators is a key consideration for the energy future – not only in France, but wherever sustainable transportation is a public-policy goal.
In this regard, too, ABB's expertise in grid-scale and distributed power management and digitally driven network operations give the company a crucial role to play in the e-mobility revolution.
"France is intent on enlisting e-mobility into the fight against climate change and to create a more energy-efficient future," Duggan said. "ABB is committed to supporting France in that mission."