ABB's new digital industry trainee program setting new standards of education
The Fourth Industrial Revolution not only requires new technologies and services but also changes the world of work and education. Clearly the increasing influence of digital techniques requires appropriate skills and qualifications. ABB is taking innovative steps to ensure the new, and necessary, skill sets are embraced by its workers.
Highly qualified and dedicated employees have helped make the company a technology leader – already embracing the age of digitalization. The basis for this is, among other things, a future-oriented education and training to provide the new skill set required to be successful in the digital age. These educational programs are being further developed: As announced at the Hanover Fair 2017, ABB Germany is adding the digital industry as a supplement to the existing trainee program.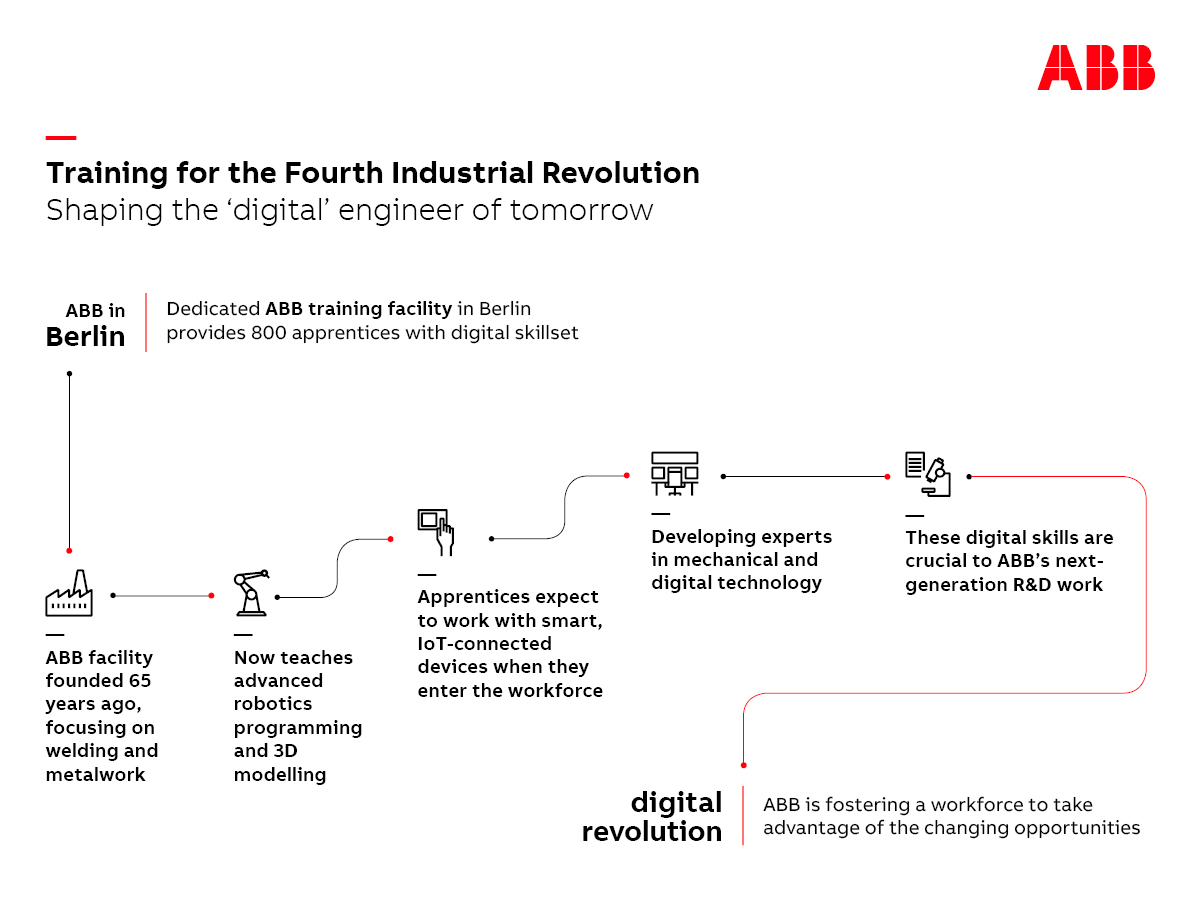 Engaged young talents with a completed master's degree can choose a business development or technology-oriented program. During a 24-month period, the digital industry trainees will learn about the company's different locations and manufacturing facilities at home and abroad and will be optimally prepared for their career in the digital ABB. In ABB's German Research Center, for example, they will have the opportunity to support the development of new digital solutions with the greatest possible customer benefit. In addition, there is the possibility to gain intercultural experience during a six-month stay abroad. During the two years, the trainees will have an experienced mentor as a consultant and companion.
ABB supports its employees on this journey of digital change and provides them with tools to make the most of the potential of digitalization, including education and training, as well as collaboration and leadership. Our two training centers in Heidelberg and Berlin are state-of-the-art and our trainers are continuously trained to provide the trainees and the students of with the necessary digital competences. In addition, the training content is regularly adapted to the requirements of industry 4.0.
ABB trainees can learn the very digital skillsets, such as advanced robotics, that will help customers turn their 'factories of the future' into factories of today. As ABB highlights its ABB Ability solutions at the Hanover Fair – one of the largest and most important industrial fairs in the world – we take a look at the example below of what this technology can do when it works together, at a cutting-edge factory in Heidelberg, Germany.