As industrial robots continue finding new ways of augmenting people's abilities in factories, artists from all walks of life continue finding new ways of expressing themselves through robots. This blending of technical prowess with artistic prowess is part of a fascinating change in the way people are looking at machines and their role in society.
Recently, ABB's dual arm collaborative robot YuMi conducted arias at the famous Teatro Verdi in Pisa, Italy, including Rigoletto's "La Donna è Mobile", with opera icon Maestro Andrea Bocelli.
"Robots have a unique way of capturing our imagination unlike any other type of technology," said Sami Atiya, President of ABB's Robotics and Motion division. "From assembling automobiles to the incredibly delicate movements we saw during YuMi's performance, there is a real fascination with industrial robots. It is only natural that these robots provide inspiration for the artists and performers that inspire all of us."
Amplifying voices and visions
Today industrial robots are appearing in many entertainment acts in ways that could not have been imagined even a few years ago. Lady Gaga used ABB robots to automate a keyboard in her emotional tribute to the late David Bowie during the 2016 Grammys. ABB robots have also been used to synchronize several giant dancing screens for everything from the world's biggest cruise ships to Bon Jovi's "Circle" tour.
YuMi has appeared in a futuristic rock video by the popular German band Glasperlenspiel, and helped launch the next generation Ford Fiesta with the help of popular hip hop DJ Yoda. The ability to connect and remotely control ABB robots also enabled Porsche to introduce its new 911 anniversary model to a global audience through an innovative interactive experience from the Porsche Museum.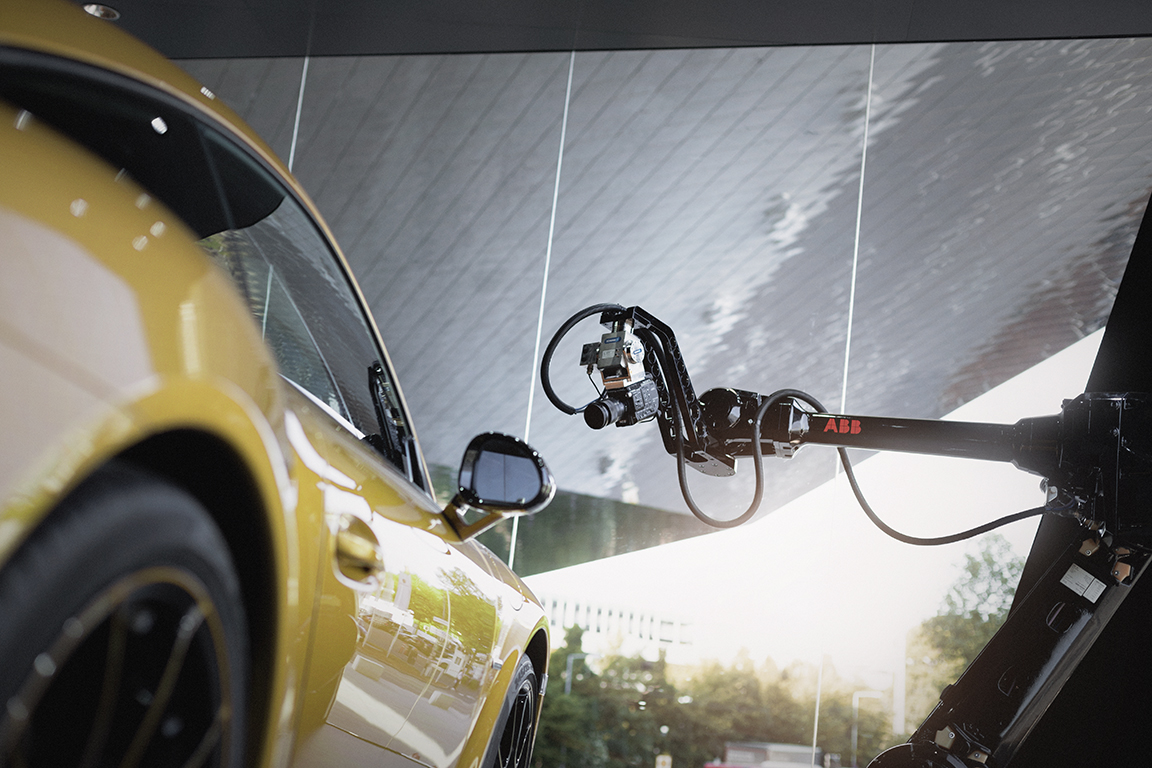 ABB robots also don't mind 'behind the camera' roles, and have been used in many films to precisely control the movements and panning of cameras and other equipment. Of course this has not kept them from making cameo appearances in blockbuster films including "Terminator Salvation" and "Iron Man 3".
Interesting new environmental experiences
Industrial robots also playing an increased role in design and architecture, from controlling lighting to making new designs possible.
As part of the Light & Building trade fair, artist Daniel Mock used ABB robots in an installation called "Luminale" in one of Frankfurt, Germany's main pedestrian malls to create conversations on the impact of robot automation on architecture and design. A similar concept in Ruhr, Germany explored the impact of artificial light in the urban space through the work of several artists.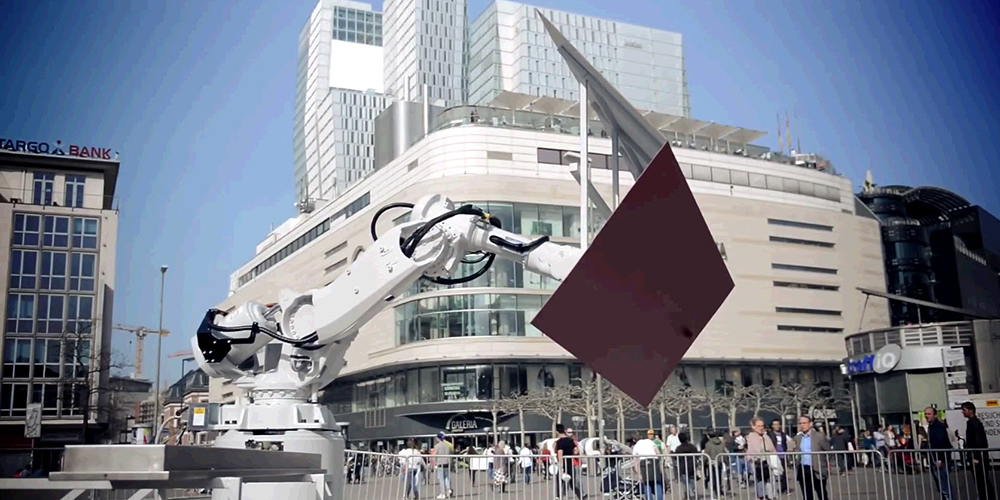 In the Netherlands, ABB robots are being used to create one of the world's first 3D printed bridges. In addition to creating striking and complex designs, the additive manufacturing process reduces waste and reliance on concrete.
Creative collaborations cross new boundaries
Technologies that make it safe for robots to work closely with people are also helping fine and performance artists explore new ways of expressing their vision.
Artist Alex Kiessling used ABB robots in a project called "Long Distance Art" where he worked on drawings simultaneously in Vienna, London and Berlin through an interface, which mirrored his movements in real time.
Dance choreographer Thomas Freundlich was inspired by robots to create a dance performance between people and robots. The performance relied on an ABB technology called SafeMove, which allows people to safely work around robots.
Reflecting on the meaning
As with anything new, some people are enthralled by robot's newfound creative roles while others greet them with apprehension. This is leading to many interesting discussions on the changing place of robots in our world.
"Fear and Love: Reactions to a Complex World" was a London Design Museum program that sought to explore how robots and automation are affecting our sense of ourselves and our future. The event featured an ABB robot programmed by Madeline Gannon, 'the robot whisperer' that interacted with visitors.
The Vitra Design Museum in Weil am Rhein, Germany also held an event called "Hello Robot", which looked at how robots are changing our everyday lives and discussed the ethical, social and political issues that this change is bringing. ABB's YuMi was featured alongside everything from a furry therapeutic robot pet to Star War's R2D2.
There have been many convergences of culture and technology in society since the start of the industrial revolution. But few of these have inspired artists to explore and push the limits of their own creative abilities the way robots have. It's an especially rewarding time to follow the outcome of this collaboration between creativity and technology.