It was a sunny spring Sunday in central-southern Germany. Despite a light breeze, the weather was so balmy that soccer fans watching Hoffenheim beat Eintracht Frankfurt 1-0 removed their coats.
But the record that Germany set that day, April 30, was not in football. It was the first time the country generated as much as 85 percent of its electricity from renewable energy sources, most of it from wind and solar. So much energy was available, in fact, that it far exceeded a Sunday's demand and sent wholesale electricity prices below zero for much of the day.
It was not the first, or last time, that wholesale electricity prices turned negative last year in Germany, where the country's "Energiewende" (energy transition) efforts has become something of a global test project.

As Germany blazes a trail toward the low-carbon, sustainable-energy future, the country is also demonstrating a collateral consequence: how to keep the grid stable, without compromising reliability and efficiency as the world moves to new and varied sources of renewable energy.
That industry dilemma bears watching as the century-old power-grid needs to become more flexible and intelligent, which triggers the need for a new business model.
Utilities, long the central gatekeepers of power generation, transmission and distribution were traditionally able to price electricity based on conventional assumptions of supply and demand. These days, with many more energy sources and providers, utilities need to rethink their business model.
A shifting power dynamic
Because government subsidies have encouraged a range of players to invest in solar and wind energy, renewables now supply nearly a third of electricity consumed in Germany. And renewables account today for nearly half of the country's total installed generating capacity, according to statistics from the German grid watchdog, the Federal Grid Agency ("Bundesnetzagentur").
Even as renewables kick in, though, utilities continue to play a vital role in the energy supply in Germany and elsewhere in the world. For the plannable future, there will simply too much demand for electricity, and not enough alternative capacity, for many businesses and consumers to simply "go off the grid."
The utilities know they need to become more efficient. That is why, even as alternative suppliers emerge, and even as some consumers are becoming "prosumers" who can send power generated by their solar panels or wind turbines back to the grid, the mainline producers of electricity are restructuring their businesses and in parallel developing new skills.
As part of that overhaul, they are turning to innovative power-management and digital technologies to enable them to more efficiently calibrate the generation, transmission, distribution and pricing of their essential product.
Digitally managing the stronger, smarter, greener grid
ABB, a global leader in the power sector, is helping utilities in Germany and elsewhere around the world navigate the transformation of the energy system.
Some of the technologies involve upgrading aging infrastructure to make it more efficient and reliable, and better able to accommodate intermittent feeds from alternative energy sources like wind and solar. Digital technology plays a vital role, too, helping coordinate the interplay between alternative energy sources and the mainline generating and distribution capabilities of the central grid operators.
"It is a top priority for every utility to have a dependable power network by deploying world-class technologies,'' says Claudio Facchin, president of the ABB Power Grids division. "This is what guides our vision of enabling a stronger, smarter and greener grid.''
One of ABB's solutions is based on the Flexible Alternating Current Transmission Systems (FACTS) industry standard, which increases the capacity and improves the reliability of long-distance power transmission lines. FACTS systems can also safely feed intermittent energy sources like wind and solar power into the grid by helping to stabilize current and voltage. ABB pioneered the technology and has delivered more than 700 FACTS installations around the world.
Another imperative for utilities is to digitalize aging infrastructure to meet new regulations, balance distributed energy resources and implement cyber-security measures. Through ABB Ability™, the company's array of digital capabilities, ABB is giving utilities much greater control and optimization of their power networks.
That includes ABB Digital Substations that can allow remote, software-enabled control and operation of power systems via fiber-optic cables, replacing analog signals carried by copper wires. These capabilities enable the grid to react to rapid changes in supply and demand, as well as letting system operators remotely monitor the condition of vital assets.
The challenge of hitting Germany's targets
The intermittent oversupply situation in Germany is not unique. Similar events have occurred in Denmark, Spain, Britain and the U.S. state of California. In 2015 Denmark produced about 140 percent of the country's energy needs thanks to a windy day and its extensive wind energy park.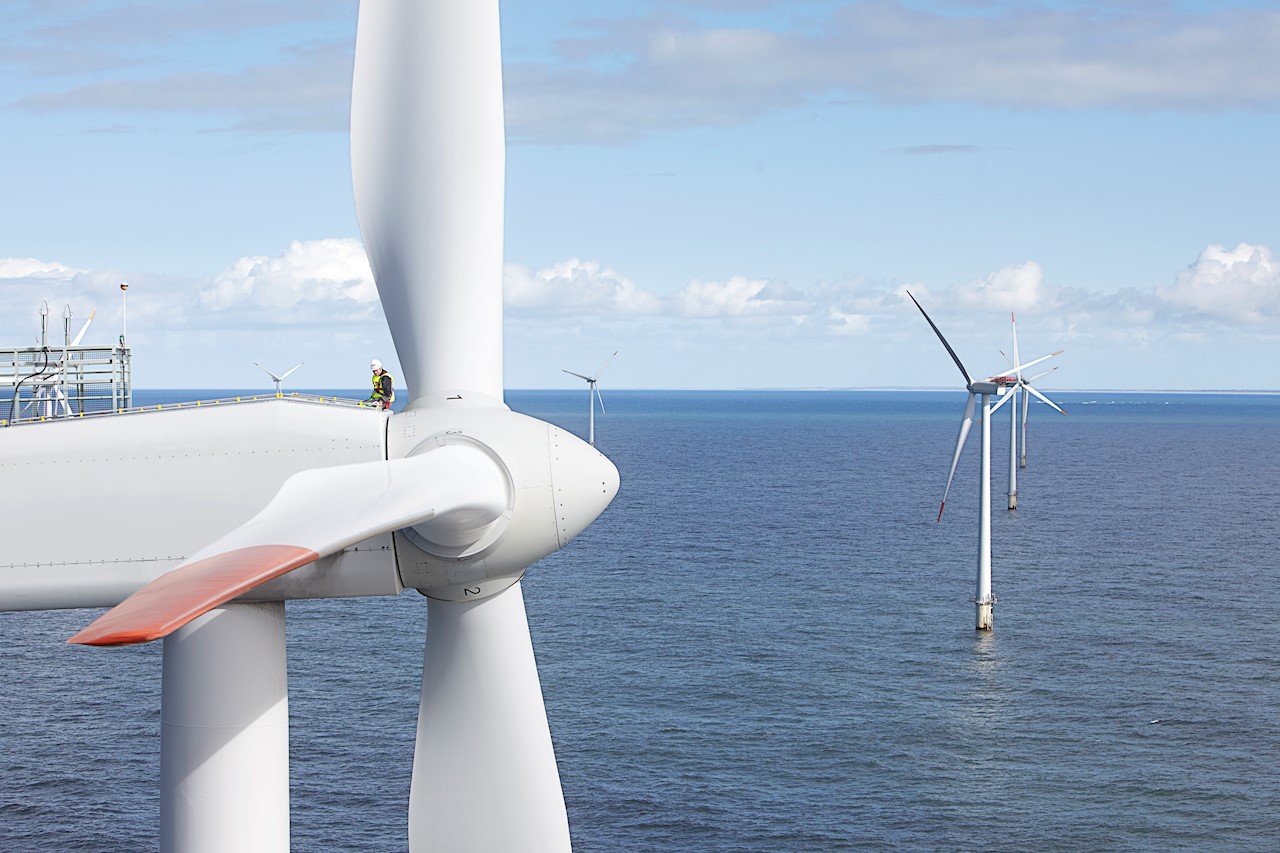 Some utilities in California now pay some customers who have their own solar installations to feed power onto the grid. The utilities curtail those payments, though, on the sunniest days when the solar panels are generating excess electricity.
In Europe, Germany's situation stands out. The country is by far the region's biggest producer of electricity, serving an industrial base that includes giants like Heidelberg Cement and the steelmaker ThyssenKrupp, as well as the world's largest car maker, Volkswagen. The country accounted for nearly one-fifth of the 3.07 million gigawatt hours of net electricity generation in the block's 28 countries in 2015, according to the most recent data from Eurostat.
Germany aims to reduce its carbon emissions by 50 percent by 2030 from 1990 levels and by up to 95 percent in 2050. So far the country has achieved an almost 28 percent reduction.
But the challenge of meeting that goal was made more difficult after the decision to close all of the 17 operating nuclear reactors by 2022, a plan adopted after the 2011 nuclear disaster in Fukushima, Japan and subsequent public protests on the risks of nuclear power.
Despite a rapid increase in renewables to about 30 percent, nuclear and fossil fuels still are a significant part of the German energy mix, according to the most recent estimates of the German Federal Ministry for Economic Affairs and Energy. And so, considerable work remains if Germany and its utilities are to meet the nation's clean-energy targets.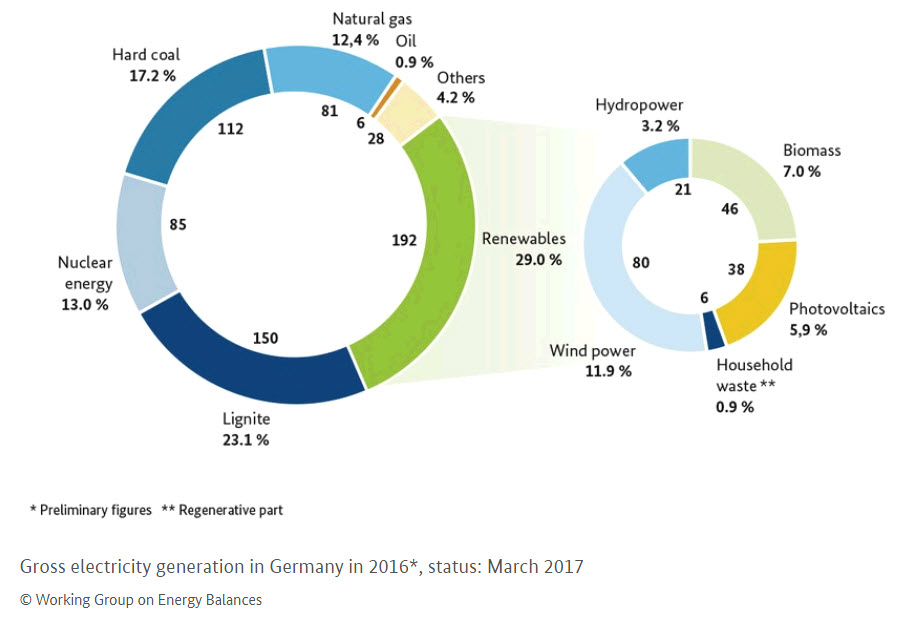 There is also the open question of who will pay for Germany's future energy, and how.
Seeking a new social contract
That sunny Sunday in April, when wholesale electricity prices nominally dipped below zero, underlined the challenges the German utilities are facing. Although the negative price was largely a statistical artifact, it was a warning signal that the steady increase in renewable energy on the grids will push wholesale prices down, sometimes even into negative territory.
New technologies can make the utilities more efficient and more able to accommodate various sources of energy onto the grid. But pricing models will need to ensure that the utilities do not lose money.
In the near term, utilities may feel the need to respond to the competitive threat by raising prices for their most captive customers – residential consumers. That happened last summer when British Gas, owned by Centrica, announced a 12.5 percent increase in its electricity prices. The move sparked fears that rival suppliers might follow.
In Germany, residential electricity prices are at an all-time high, and are expected to increase another 2 percent in 2018 from 2017, according to the price-comparison firm Verivox, which has urged consumers to seek alternatives to their local utilities. In the past 10 years electricity prices have gone up by more than a third, Verivox has calculated.
In California, state regulators last year allowed a big utility to reduce the payments it was giving to residential customers who provided solar energy to the grid. The reason: the paybacks were forcing the power company to make up its financial shortfall by raising rates for the conventional energy used by other consumers.
Some energy economists are calling for utilities to adopt new pricing models. Energy tariffs based on metered usage may need to be replaced by service packages for a monthly fixed fee, according to Fereidoon Sionshansi, the president of San Francisco-based consulting firm Menlo Energy Economics.
"Charging based on volume is outdated and will become unsustainable as a means of covering the cost of the delivery network," Sionshansi wrote in a paper. He suggested utilities could follow the same path telecoms operators have followed. In mature telecoms markets such as Europe and the United States operators offer fixed data packages, moving away from usage-based pricing.
Policy makers in this new energy environment may need to help the power producers figure out new ways to finance the generation and distribution of electricity – to write a new social contract between the producers and consumers of energy.
Businesses and consumers with the financial wherewithal to invest in their own alternative energy sources can enjoy the benefits of renewable energy while also making extra money by selling some of the excess to the utility. Without careful policy planning, though, any price increases will be borne mainly by people who have no money to install solar panels and have no option but to buy from the utilities.
"Billions of people depend on electricity for almost every aspect of their everyday lives,'' says ABB's Facchin. "It is therefore extremely important to ensure availability, reliability and efficiency of quality power, which underlines our vision for a stronger, smarter and greener grid.''